New to Remedy or looking to branch out from your usual go-to? Our Remedy Sample Pack has a little somethin' for everyone with six of our cult-fave bevvies.
Sale price
$49.00
Regular price
Unit price
per
FREE SHIPPING ON ALL ORDERS
Tasting Notes

We've shoved the whole fruit bowl in this box of bevvies. A mix of light and crisp berry flavours (Remedy KICK Blackberry, Remedy Kombucha Raspberry Lemonade), juicy, fresh and zingy citrus flavours (Remedy Kombucha Orange Squeeze, Remedy Switchel ACV Blood Orange) and rounded it off with some fresh, bright, tropical flavours (Remedy Sodaly Guava, Remedy Sodaly Passionfruit). There truly is something for everyone!
View full details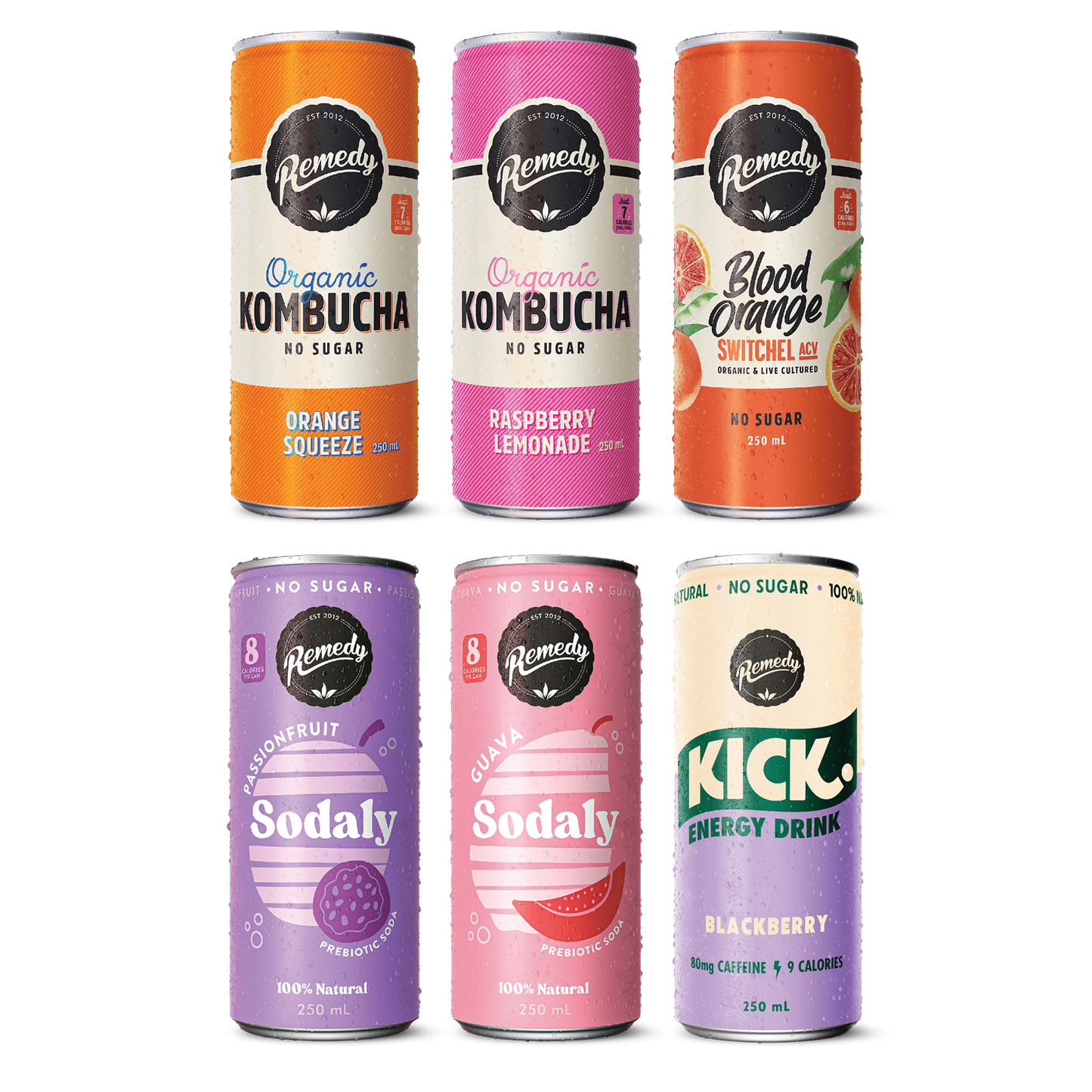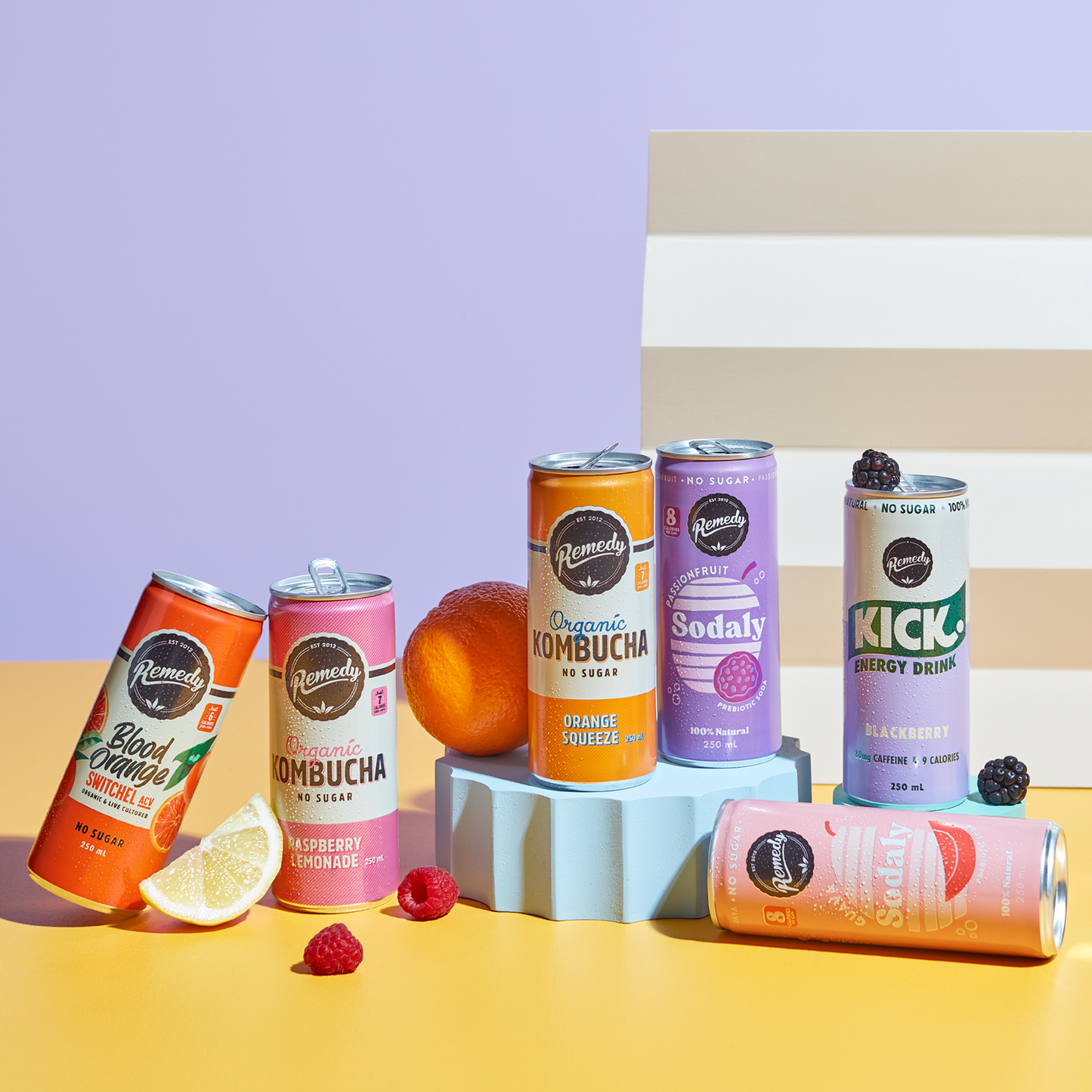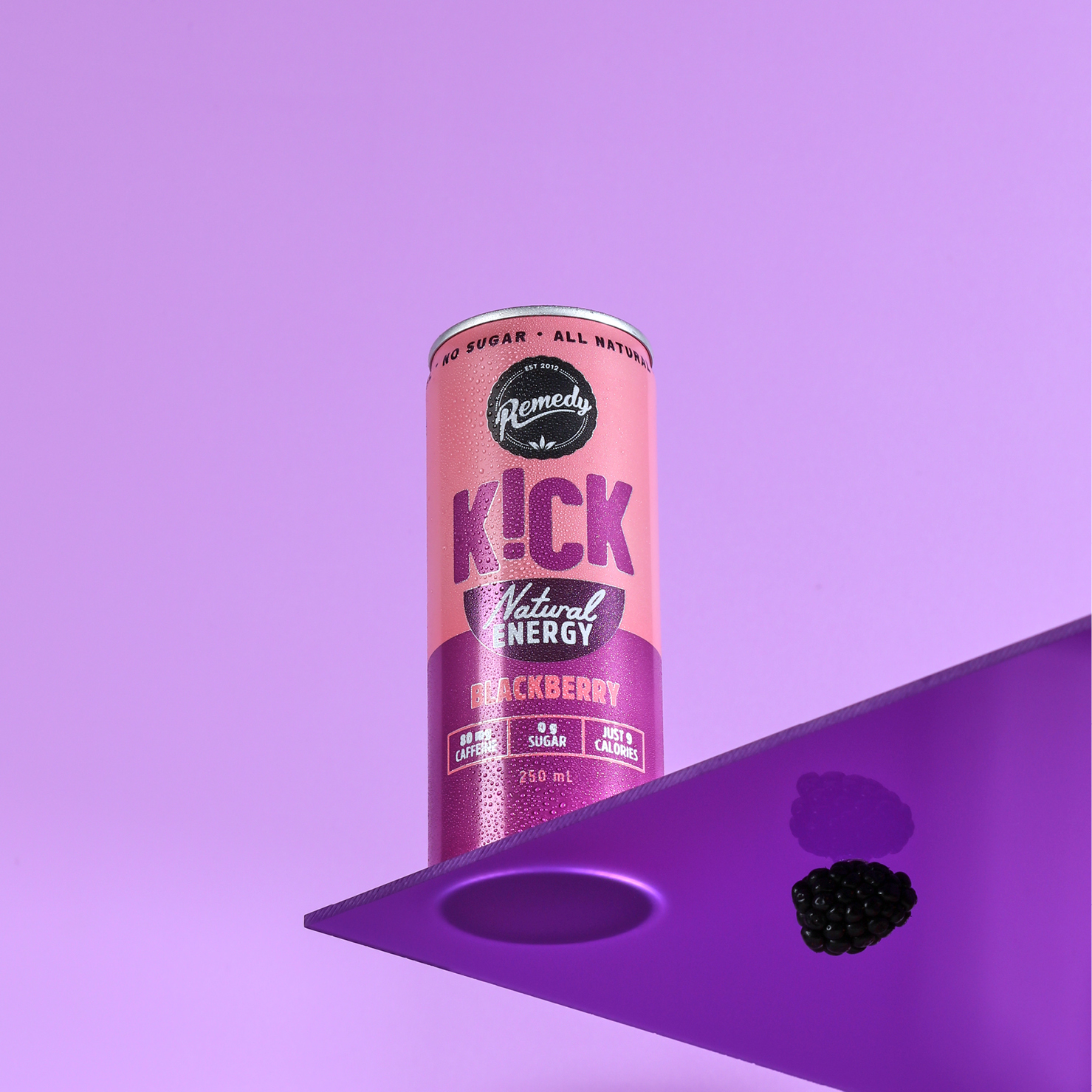 THE JUICY DETAILS
What's the deal with sugar in Remedy Kombucha?

When brewing Remedy Kombucha, raw organic sugar is used as a key starter ingredient acting as food for the all important live cultures. During our 30-day long aged brewing process, all of this sugar is converted into healthy organic acids leaving no sugar (and we test each batch to make sure of it).
Switchel ACV vs Kombucha, what's the diff?

Both bevvies are made the traditional way, are packed full of goodness and have no sugar, for real. But one is made from apple cider vinegar and the other, from tea! Switchel ACV is made from a base of raw apple cider vinegar, paired with real organic ginger and a hint of honey. It's fizzy, a little fiery and bursting with tasty full-flavoured goodness. Whereas Remedy Kombucha is made by fermenting green and black tea using a long-aged brewing process. The result is the tastiest kombucha going around that's packed with antioxidants, organic acids and live cultures.
What's the difference between Remedy Kombucha and Remedy Sodaly?

Remedy Sodaly is our super-tasty, full-flavoured soft drink containing no sugar or artificial ingredients. Unlike Remedy Kombucha, Remedy Sodaly is made with a base of ACV, which contains gut-friendly prebiotics known to aid in digestion and deliver other benefits like enhancing immunity and healthy skin. On the other hand, Remedy Kombucha is a fermented tea that we long-aged brew in small batches. The result is a delicious bevvie packed with goodness from live cultures, antioxidants and organic acids.
What ingredients do you use in Sodaly?

We're super fussy about our ingredients to ensure all our drinks are top-notch in quality and taste delicious. With a base of gut-loving ACV, all-natural fruit flavour and a burst of fizz, there's nothing artificial here!
Why is Remedy KICK a better alternative to other energy drinks?

Remedy KICK is packed with goodness! You'll get all the benefits of our superior kombucha brew; live cultures, antioxidants and organic acids with no sugar, for real.
How much caffeine does Remedy KICK contain?

Remedy KICK is made from only the best all natural ingredients. Green coffee bean delivers a smoother, more enduring energy hit. Nothing hidden, nothing artificial. Remedy KICK contains 80mg per 250ml can, which is the same caffeine hit as a cup of coffee!
What does Switchel ACV taste like?

Switchel ACV has what we like to call the taste trifecta: a little sweet and a touch sour, with a slightly spicy kick.
GREAT READS
So you want the dirt on all things Remedy, huh? Well, you've come to the right spot. We're spilling the beans, or should we say, spilling the tea (get it) - on our blog. You'll find the juicy gossip on what's going down at Remedy HQ, the lowdown on all our tasty bevvies and, to top it off, some freakin' delish recipes.
EXPLORE THE BLOG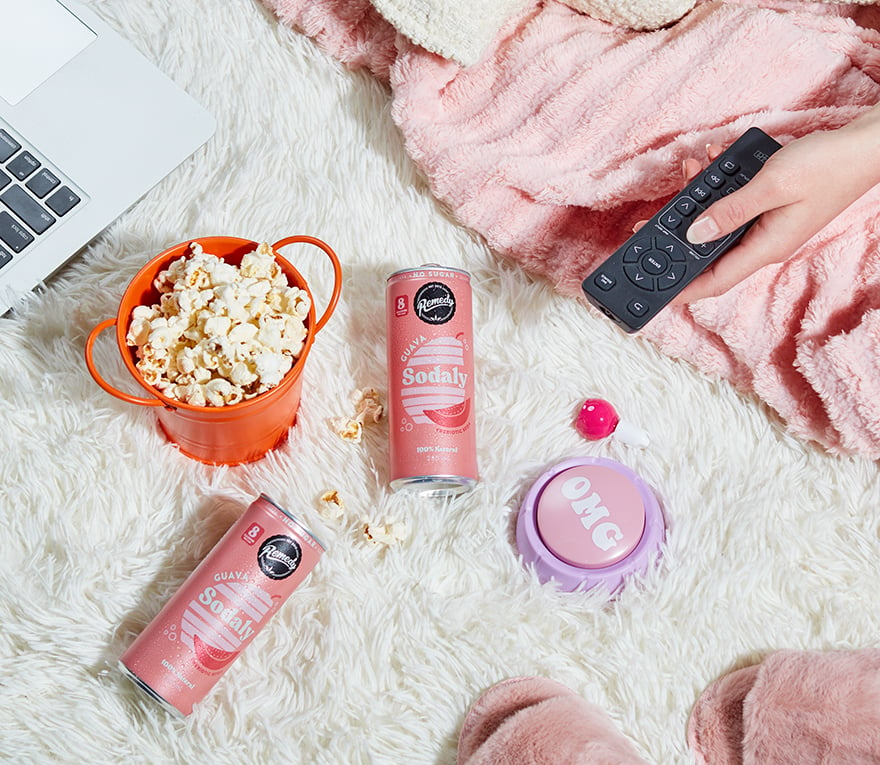 "What in the Marvel Cinematic Universe is a functional drink, and why are they everywhere right now?" If this is you, you're not alone. Our DMs are bubbling over with questions about...
"What in the Marvel Cinematic Universe is a functional drink, and why are they everywhere right now?" If this is you, you're not alone. Our DMs are bubbling over with questions about...